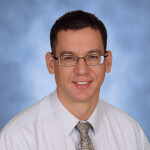 We all have a favorite Christmas carol. The carol that sparks memories of your childhood. The carol where you cannot help but sing along. Or perhaps the carol where you just sit back and listen. As one who loves the Christmas season, I do have many Christmas carols that I am partial to, but perhaps my favorite is "O Holy Night." After taking a quick look, I have four different versions on my playlist. There is one line I wish to share from this carol: "A thrill of hope; the weary world rejoices, for yonder breaks a new and glorious morn."
"And we boast in the hope of the glory of God. Not only so, but we also glory in our sufferings, because we know that suffering produces perseverance; perseverance, character; and character, hope. And hope does not put us to shame, because God's love has been poured out into our hearts through the Holy Spirit, who has been given to us." Romans 5:2b-5.
So, if Christ's coming into this world offers hope, and hope, as the song says, provides a thrill, how do we experience this amid the distraction and disillusionment of our world? This is the great thing about hope. Just as total darkness cannot hold back the light of a tiny flame, so does even the smallest increment of hope provide joy and purpose.
Hope may not come easy. Hope is not always easy to believe in since we cannot see it. Hebrews 11:1 says, "Faith is the assurance of things hoped for, the conviction of things not seen". Notice the parallel between "things hoped for" and "things not seen." Talk about a paradox; try applying "assurance" to something your five senses cannot detect. It can be a challenge. The plus side is that hope, through Christ, is available to you no matter what you see, hear, or feel.
Do you ever hear people say, "I don't want to get my hopes up" because they are afraid of being disappointed? So, what does that phrase now mean with what Paul says, "hope does not disappoint"? A quote from Max Lucado: "Hope is not what you'd expect; it is what you would never dream. It is a wild, improbable tale with a pinch-me-I'm-dreaming ending. Hope is not a granted wish or a favor performed; no, it is far greater than that. It is a zany, unpredictable dependence on a God who loves to surprise us out of our socks and be there in the flesh to see our reaction."
Do you ever wonder why faith, hope, and love are the greatest virtues, and in that order? Maybe hope is not actually something we do, but something we receive, like grace. If that is true then "without faith it is impossible for us to please Him." Hebrews 11:6. We receive faith from the Holy Spirit, and with faith, there is the hope. Hope in a risen Savior. With faith and hope in place, we can love. Love is built on hope, which is built on faith.
A perfect world would not have any need of hope. Hope can, and in fact, should exist because we are in a sinful world. Deliverance arrives undeservedly and perhaps unexpectedly, just as in the unlikely way God came to earth to provide a once and for all substitute for the sins of all men on the first Christmas. That is why things can look bleak, but that is where hope lives.
The good news is we simply cannot hope big enough, which goes back to the idea of our minds and senses being inadequate to comprehend God's design and methods, and hope being more a function of God's involvement than our desires. We may not know how our problems will be solved, or what miracles we will be blessed to see, but with faith in God we do have hope and with hope is love and joy. From my second favorite carol "Come Thou Long Expected Jesus", it says … "Israel's strength and consolation, Hope of all the earth thou art; Dear desire of every nation, Joy of every longing heart."