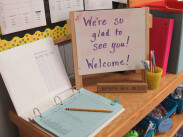 Welcome to St. John Lutheran Preschool and Young 5's! In our program, we share Jesus' love every day with our students. We believe that every child is a unique gift from God and we are blessed with the honor of teaching each individual according to the talents God has given to him or her.
At St. John Lutheran, we believe in educating the "whole child". Our curriculum covers the spiritual, social/emotional, cognitive, language arts, math and science, physical and musical areas of learning, using a blended curriculum approach.
In our Three-Year-old program, we take a thematic approach to learning. The children learn socializing skills through their play during center time. Children's literature is used to enhance the themes that we study. Music is incorporated throughout the day. Half and full day sessions are offered.
The Four-Year-old program continues to build upon the themes and we also incorporate letter and sound recognition in the language arts area. We continue to work in skills areas that will help prepare children for Kindergarten by using developmentally appropriate practices. Various half and full day sessions are offered. Preschool 4's sessions are all designed for Kindergarten readiness.
St. John also offers a Young 5's class, with half and full day options. The Young 5's program at St. John is designed for students who have completed Pre-K 4's, and either are not age eligible for Kindergarten or would benefit from an additional year of instruction prior to Kindergarten, whether academically, socially or emotionally.
St. John Lutheran Preschool is an excellent place for children to learn and grow academically, socially, and, most importantly, spiritually. We invite you to schedule a tour to visit our program. We look forward to meeting you and your Preschool student!

In Christ's service,
Mrs. Karen Neumeyer
Preschool Director & Teacher