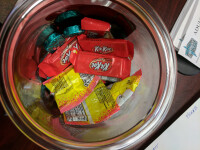 I am not giving something up for Lent. I am adding something to my journey to the cross.
Most of the time during lent, people spend the day thinking about what they are going to be giving up for Lent. For me, I have never really found that is helpful for my spiritual formation. Giving up sweets makes me angry. Giving up chocolate would make me down right angry. Mostly, I would be thinking all day about how I missed that food or thing I gave up. For me, giving something up for Lent doesn't point me to Jesus. I want you all to know I don't find anything wrong with giving something up for lent as it is certainly a spiritual discipline of fasting. Fasting is a time honored way of strengthening one's faith. For me however, it has never been appealing or truly beneficial.
So this Lenten season, I decided to do something different. I decided instead of taking something away, I am going to add something to my family's life. We are going to spend the 40 days of Lent reading through the Gospels. We are going to spend this time following Jesus' journey to the cross. I know for me, reading the scripture brings it alive. I am excited for this journey and would challenge you to think about it as well.
In the reading schedule I gave myself a day off because - let's be honest - having a day off is needed sometimes. Life can be crazy busy. I don't need something else to give me more guilt for messing up.
My goal this Lenten season is to journey to the cross with my Lord and Savior. My prayer is that many of you will join in this journey. Let us be in the Word together as we make this journey to the cross and see these great things He has done for us.
In Christ,
Steve
CLICK HERE to download a daily reading plan to assist you and your family in reading through the four gospels together during the days of Lent and Holy Week.
Blog used with permission from YouthGuySteve, March 1, 2017