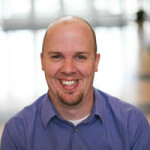 Anticipation is something we deal with on a daily basis these days. It used to be excited anticipation, but recently I think much of our anticipation is dread. We are sitting and waiting for something to go wrong. The anticipation of today is not what I enjoy. It has been a tough season of anticipation.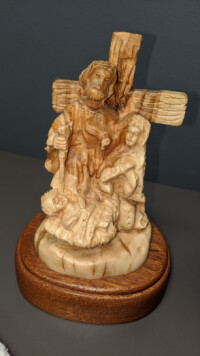 This January when I went to Israel I bought this Bethlehem wood sculpture. It is one of my favorite things I bought there. I bought a lot of things for teaching students and families. I got coins, prayer shawls, pictures, and a ram's horn, all so I could teach about Jesus to others. This item, however, was for me. It was supposed to be a reminder of what Jesus did for me from beginning to end.
I spent way too much on this item and if my wife knew how much it was, she would have told me no. Well maybe not, but she probably would have shaken her head. I couldn't resist it though. For me this little item has been a great reminder for Holy Week and our struggles with anticipation. Here is what I see. I see the baby Jesus with Mary and Joseph, and I see the cross. From the very beginning of all the eager anticipation of the coming of Jesus, it was all meant for the cross.
Today many of us are waiting in anticipation. We are waiting to hear new numbers of people infected, or if a loved one is sick, or if someone in my family will pass away. Our anticipation is something we deal with on a daily basis. It is certainly not the anticipation of joy we are used to. And yet I imagine the angels in heaven, from the time Jesus was born, looking on with baited breath in anticipation of when it all would happen. When would God redeem His people and the whole world? I imagine they looked on in wonder, or maybe sadness and fear as it all played out. Even when God sent Jesus to the cross, maybe they didn't even fully understand everything that was going on. Fear may have even enveloped them as it did for His disciples. Maybe fear is enveloping you in these days of anticipation.
For this week I would ask you to turn off your TV and focus on something else. Focus on the cross. The cross was where our place was taken, and as we enter these days ahead, we will make it to the empty tomb. All of this anticipation went from dread to hope. Maybe today as we get closer to the cross, His death, and His resurrection, you can look on with anticipation of the hope we have in Jesus and throw off the dread that so easily takes hold.
18 For I consider that the sufferings of this present time are not worth comparing with the glory that is to be revealed to us. 19 For the creation waits with eager longing for the revealing of the sons of God. 20 For the creation was subjected to futility, not willingly, but because of him who subjected it, in hope 21 that the creation itself will be set free from its bondage to corruption and obtain the freedom of the glory of the children of God. 22 For we know that the whole creation has been groaning together in the pains of childbirth until now. 23 And not only the creation, but we ourselves, who have the first fruits of the Spirit, groan inwardly as we wait eagerly for adoption as sons, the redemption of our bodies. 24 For in this hope we were saved. Now hope that is seen is not hope. For who hopes for what he sees? 25 But if we hope for what we do not see, we wait for it with patience.
Romans 8:18-25 ESV