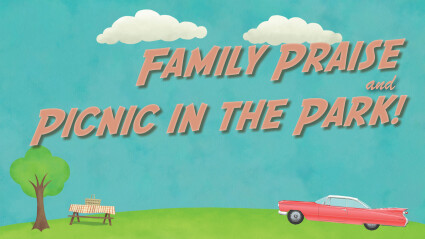 FAMILY PRAISE & PICNIC IN THE PARK – SUNDAY, AUGUST 28
It's time to join back together at Family Praise & Picnic in the Park on Sunday, August 28, beginning with worship at 11:00 AM in beautiful Rochester Municipal Park. This will be the only worship service offered that weekend as our St. John family gathers together to witness Jesus' love in the community! Make plans now to join us and invite your family, friends, and neighbors too.
Park Info: Dress casually and bring your lawn chairs & blankets as seating will be on the grassy area surrounding the Band Shell in the middle of the park. The worship service will be followed by a free picnic lunch, ice cream, family activities, and more! For our friends and family with mobility concerns, we have golf cart drivers that will transport you to and from the parking lot, as well as seat you in a shaded area with provided chairs.
Vintage Vehicle Display | 9:30 AM to 2:00 PM
Display your treasured car, truck, tractor, or cycle at the park from 9:30 AM – 2:00 PM. For more information, contact Eric Brown at 586-321-4468 or .
Red, White, and Cute Wheels Parade | 1:00 PM
Decorate your bike, trike, wagon, or scooter in patriotic colors and join the "Red, White, and Cute" Wheels Parade at 1:00PM and receive a gift! Contact Olivia Rice, 586-899-0396 or , for more information.
CLICK HERE
TO SEE A MAP OF THE EVENT AND ADDITIONAL INFORMATION
Hope to see you there!