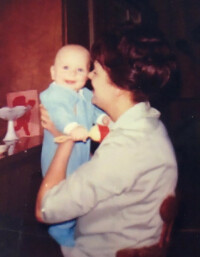 Some things simply must be shared since to keep them a secret would be against their original intent. The words that follow are what I consider to be such things. They are words written by my beloved mother, Opal, toward the end of her battle with the cancer that had taken over her body (but not her soul). I believe they are precious words filled with timely wisdom worth taking to heart this week:
"When I began sharing my thoughts, pains, and joys of these cancer burdened years, I was still hopeful of a cure or remission. During one of my earlier treatments I found myself asking my oncologist to please assure me of a cure. He replied, 'Only God can assure us of that, and he's not talking.' I had lots of time to consider that reply…and as time passed I tended to feel God's presence more and more. I felt his presence especially on the days when I felt totally dejected and hurt bodily from one series of treatments or another. Those were the days when a phone call of encouragement or a note of cheer or the beautiful words "I'm praying for you" from family or friends was a real spiritual lift. It was then I realized that God has indeed created all caring and love, and had moved someone to reach out to me on that given day when I seemed to need it the most. I do understand the gift and wonderment of God's timing in this regard.
I always considered myself a positive person, health conscious and very much in control of my body. The most difficult thing to accept about cancer was being totally dependent for care and cure from others. X-rays, scans, chemotherapy, radiation, blood analysis, etc., you're out of control. Others control your destiny. The fear of drug mega-doses and possible human error is intense. My patience with nurses and technicians grew shorter. I was no longer the model patient, losing confidence, questioning everything, demanding more. I was panicky and found my emotions running rampant. I found myself looking for immediate signs of improvement…yes, miracles.
'Are you ready to die?' These were the words of my dearly loved pastor before one of my surgeries. I was somewhat stunned by the question and recall I needed some time to reply. My life has been full, lots of joys. Of course, some days of stress and difficulties were intermingled, but 'ready to die'? Spiritually, yes I was ready, but physically, no, I wasn't ready for separation from loved ones. I have so much to do and so many more good things to give others. Were these not good enough reasons for God to grant me a longer life? ...NEVER take…love for granted. It is a special gift from God."
Wise words indeed from a wise woman.

This past month marked the 29th anniversary celebration of my mother's complete healing from cancer when the Lord took her home to heaven through faith in Jesus at the age of 55. I share this not to gain your sympathy or compassion, for that is not my point here at all. Rather I share this because I hope to help you think…about your life as it stands right now. Is there love? In your interaction with your family and friends are you making the most of every opportunity to love (especially in these difficult days)? If you were to tragically and suddenly leave this life today, would there be regrets? Would you leave behind emptiness in those who have never heard you say the words, "I love you"? The reason I ask this of you is simply because time really is precious. Make no mistake about it. You have been given a life to live. It is a gift given to you by your heavenly Father.
This special gift is ultimately the message of Easter we've been celebrating: Through His love for you in the life, death and rising again of Jesus, He has made you eternally His own! Your life is no longer your own, but rather His life lived through you! As a direct result, your number one calling and fulfillment in this life as a chosen child in God's family is not to achieve early retirement, country club comfort, or a popular name for yourself, or your kids, or (you fill in the blank), rather it is simply to boldly love as He has loved you.
The beloved disciple of Jesus named John said it best in one of his letters, "Dear friends, let us love one another, for love comes from God...This is how God showed his love among us: He sent his one and only Son into the world that we might live through him. This is love: not that we loved God, but that he loved us and sent his Son as an atoning sacrifice for our sins. Dear friends, since God so loved us, may we love one another." (1 John 4:7-11)
Wise words indeed.

In Jesus I am yours,

Marc Schwichtenberg
Lead Pastor