New Year Mulligan
As winter has finally arrived here in Michigan, I have already been pondering more and more how much I miss playing golf. This past year I rekindled my long lost love for the game and took intentional steps to get out and play more often.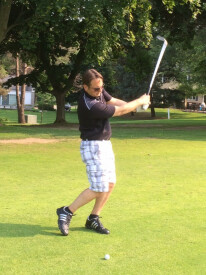 As many of you appreciate, it is a great sport combining the beautiful out-of-doors with the changing terrain of challenge, timed precision and accuracy. I do not agree with Mark Twain who, I hear tell, once described it as a "good walk spoiled." He obviously never played in a cart.
As much as I love the game, if you've ever played with me (or near me) you know full well that depending on the day, I'm either on my game or I'm…well, not. It's on those not days that I begin praying for the safety of others on the course. At those times the safest area to stand is in the direction that I am aiming. (No kidding, I once hit a speeding golf cart at two hundred yards….in the wrong direction.) It's on those days that I am often ready to give up and give in and never play again.
Give up and give in, that is, except for an unofficial rule that comes into play with most of the company I keep when invited to chase the white ball. It's called a mulligan. Though you won't find it mentioned in the USGA's rule book, or see it play out on national television at the next Master's championship, you will find it sacredly held by multitudes of golfers around the world.
A "mulligan" is literally a second chance. A re-do. A do-over. And best of all, it is given without penalty. A golfer who hits a misfire into the woods or barely trickles the ball off of the tee can simply call out "Mulligan" among his/her companions and have another shot at it. (I usually need about three per hole.) It's amazing how having a second chance can reclaim the joy one has for the game. I am convinced that the mulligan is the hope of so-so golfers around the world as well as so-so people like you and me. I mean, just imagine the ability to have a do-over in an area of your life where you have struggled to keep things on line and in bounds. Imagine the impact of a second chance at what you thought was a unsalvageable marriage, or irreconcilable relationship. Who could miss the hope that could come out of a re-do of your regretted mistakes and misplaced priorities and passions? Wouldn't you agree that a life mulligan is the secret need and longing of every human being on this planet?
Then let me remind you at the beginning of this New Year as you reflect on regrets and focus with resolution toward the future, that the idea of a second chance is the essence of our hope in Christ. As God's word says, "Everyone who believes in him receives forgiveness of sins through his name." (Acts 10:43b) The holy One sent by God comes to pay the penalty for our sliced, hooked and severely shanked lives and gives us His divine grace providing a re-do second chance do over! And He even invites us to repentantly call on Him for it! But our God not only gives us a second chance, He actually instills in us the power to get it right next time by faith. "Therefore if anyone is in Christ, he is a new creation the old is gone the new has come!" (2 Corinthian 5:17) It's amazing how a second chance can reclaim the joy one has not only for a game but even more so for life in Jesus.
It's my prayer "four!" you in the New Year!

In Jesus I am yours,