I am persuaded that the ability to think and say the right thing at the right time is a virtue. For me, it is a virtue that often seems out of grasp…but not on one memorable occasion many years ago while still serving at my former congregation outside of Chicago.
A few folks were standing around a circle with our architects who had designed a sanctuary renovation and expansion for us. It was the usual "meeting after the meeting" that happens when any group of people get together who are passionate about something. We were discussing some of the hundreds of details involved with going into construction that summer. One of the biggest of these details, from a ministry standpoint, was the need to vacate the entire church facility for a period of a full year during the construction process. I knew it would present a huge challenge given all of the non-stop activity that goes on in a church facility in any given week—much more so, a full year.
It was in the midst of that conversation that the concern of funerals came up. Someone suggested in a worried yet smiling voice, "We just need to pray that no funerals occur during this time."
"Wow!" joked one of our architects, "What a great outreach strategy! Imagine if THAT word got out: Nobody dies here!! Who wouldn't want to be part of a church like that!?"
And that's when it hit me.
"Actually," I said with all seriousness, "That IS our message and it always has been! NOBODY dies here!"
It is, you know?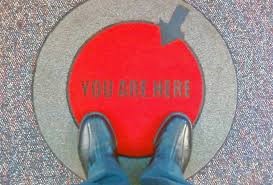 God has not placed us in this community to be an exclusive club or social organization. He hasn't positioned us to simply provide activities to cure boredom in our children, youth, families and seniors. He hasn't simply put us here to do good things or offer helpful services. Rather, God has positioned us here to offer our community and world what no other group, organization, club, hospital, government, etc. can offer: The gift of eternal life through Jesus Christ! You see, it's true…nobody dies here!
Just like we celebrated this past weekend on Easter Sunday, Jesus said it so clearly, "I am the resurrection and the life. He who believes in me will live, even though he dies; and whoever lives and believes in me will never die." (John 11:25-26) As a direct result, through living faith in the One who gave up His life in order to rise again, nobody dies here!
It's why we make such a big deal out of staying connected in God's life-giving Word wherever we are. It's why being in worship, even while apart, becomes an ever-increasing priority in our lives! It's why we continually strive to do the best ministry possible to relevantly connect with as many people as possible even without the ability to physically gather together! It's why giving sacrificially, even through challenging times, becomes second nature! It's why we want to reach out not only to each other, but especially to people in our neighborhoods, community, and world who don't yet know. It's why we together step forward in faith to do everything we can to share the most important message in the world!
Through Jesus Christ nobody dies here!
It's also why I can't wait to keep on celebrating with you throughout this Easter season no matter what challenges face us in the days ahead!
In Jesus I Am Yours,


Pastor Marc Schwichtenberg
Lead Pastor