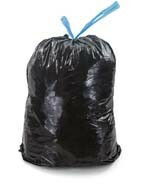 Old garbage really smells.
Quite a few years ago when we still lived in the suburbs of Chicago I will never forget the summer when there was a sanitation worker strike. Though I forget the exact number of days the strike went on, I know it lasted a few solid weeks to be sure.
During that time our garage began to overflow with no escape…no outlet. It really wasn't a big deal at first, but then the heat rolled in: Ninety plus degree heat that took nature's decomposition plan to the limit! And with two young children in diapers in our house at the time…need I get to the details? Old garbage really stinks!
What gets me even to this day is that this is actually a common occurrence. Many of us choose to have this experience every summer. We too, live through a summer trash strike. But this strike comes from the inside and takes the form of a chosen, stubborn unwillingness to take out the trash of our sinful indifference. And this trash if left alone will begin to not only smell, it can lead to spiritual decline and ultimately death. This neglected refuse is the trash of the soul.
Perhaps your experience is like mine. I get busy and overlook the obvious, but when I take time to pause and reflect I realize that I've got garbage that needs taking out. And how smelly that garbage can become when left to collect in my heart and soul. As David once wrote a song about his trash with the lyrics: "When I kept silent, my bones wasted away through my groaning all day long. For day and night your hand was heavy upon me; my strength was sapped as in the heat of summer. Then I acknowledged my sin to you and did not cover up my iniquity. I said, 'I will confess my transgressions to the LORD'—and you forgave the guilt of my sin." (Psalm 32:3-5)
Don't go on a trash strike this summer! In other words, don't take a break from growing in your faith! As always, your Savior stands ready and willing to accept and haul away your spiritual trash, garbage and refuse (no matter how stinky) free of charge as you confess it to Him!

In Jesus I am Yours,


Marc Schwichtenberg
Senior Pastor
P.S. Be sure to keep connected this summer through our worship series we've entitled Songs of Summer based on the Psalms. CLICK HERE to learn more! Have you been traveling and missed a few weekends? Catch up or share weekend sermon messages from our online message archive by clicking HERE.