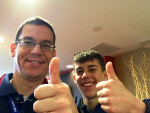 This past week I had the privilege of being a dad. That is an interesting statement, so let me explain. This past week I was able to go with my son on his Washington, D.C. 8th grade trip. That trip was only the second time that I was able to go on a field trip with my children. It was a very good feeling to be a dad.
Prior to the trip, we parents could not avoid hearing the horror stories of riding for many hours on a bus. Then we heard about constantly being on the go, with no time to rest, lots and lots of walking, and not being able to see everything there is to see. So going into the field trip, any parent could easily dread or get psyched out about the field trip. Knowing all of this, I decided to go with a different approach.
I could have chosen an attitude of negativity. I could have chosen an attitude that this was going to be a miserable field trip. I took the approach that I knew it was going to be a very busy trip. I took the approach, that as long as I was able to stretch my legs for little bits at a time, the bus ride would be a go. I took the approach that as long as I downloaded some movies, my brain would have a chance to rest. The chaperones were told at the beginning that this field trip only gives the students and chaperones a taste of what Washington, D.C. has to offer, and we could perhaps return with our own families to visit some monuments, museums and attractions. This trip gave me a chance to practice choosing an attitude.
Choosing one's attitude is a lot like coloring. When you color with crayons, you select the color you want to use and begin to color. Attitude works in a similar way. You can choose your attitude and how you react to situations. You can choose to always be upset and to dislike life, or you can choose to be happy and positive. Many times, we wait for everything to be perfect in our lives to be happy. We think that when we have more free time, we will be happy. If we wait for everything to be perfect in our life to have a good attitude, we will be waiting a long time. Instead of waiting for things in your life to get better to be happy, why do we not choose to be happy now? Just like we pick a color of crayon to color with, we can pick our attitude toward the things that happen to us every day. "I am not saying this because I am in need, for I have learned to be content whatever the circumstances." (Phil. 4:11).
Paul shows us here that we can be content in any set of circumstances. So the next time each of us is coloring with a box of crayons, let it be a reminder to us that we have the power to choose our attitude. We can choose to be content, regardless of what is happening around us.
It was a good field trip, father and son approved!