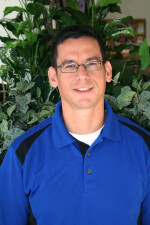 Although I am getting older, I still find myself looking forward to things, anticipating what is coming up, or saying to myself, "I can't wait for (insert fun item!)." In some avenues, I can be like a child looking forward to opening presents on Christmas Day. I look forward each year to the start of the NFL season. I looked forward to a golf tournament I was in recently. I look forward to March Madness. Even though I am getting used to how the school day is running in 2020, I look forward to once giving high fives to the students again, not having to worry about a six-foot bubble, and seeing the children's smiling faces.

A driver does not drive a car forward while looking too long in the rear-view mirror. A sprinter loses valuable time if he glances back too often. What is true in driving and in races is true in life. It is easy to idealize the good old days or dwell too much on a current crisis or problem. Both past and present are defined by sin and grace. The future is as well. The truth, "What has been will be again, what has been done will be done again; there is nothing new under the sun." Ecclesiastes 1:9. We can get so caught up in our current situation that we can lose sight of the future. We can all see the present situation, which can cause us to live in constant fear or be an emotional wreck. If we live this way, life becomes an emotional roller coaster and it becomes exhausting.

2 Corinthians 4:18 says, "So we fix our eyes not on what is seen, but on what is unseen, since what is seen is temporary, but what is unseen is eternal." We work to train our eyes to look beyond our present circumstances and troubles, through the Holy Spirit. He wants us to look further down the road so we can see that our current situation is only temporary. In the bigger picture, we can see His hand directing our life with purposeful movement. The best life is not in the past, and does God not promise we will have our best life now. That is why through faith, we look forward. Although faith looks to the past to recall God's faithfulness, it also forgets past sins in order to forge forward in Christ to the full life He promises with God, forever.

There is one word to describe this - hope. Encourage others to hope. Why? Choosing to hope is extremely powerful. There are many things to hope for - weight loss, harvesting the garden, or getting that job offer. These are all great things. But there is one type of hope, hope eternal that is everlasting. This means that when we obtain what we hope for, it will never end. This type of hope comes from God alone.

God is the creator of hope. The whole idea is that things will get better. Goodness is on the horizon. Because God is good and He always makes good on His promises, we can expect Him to show up... in everything. Putting our hope in God looks like choosing to trust when our bodies ache and our relationships break. It means that instead of complaining, we keep going.

"Look forward," hope says. Trust in a beautiful horizon. Forget what is behind and "...press on toward the goal to win the prize for which God has called me heavenward in Christ Jesus." Philippians 3:14.