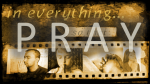 Our theme for the 2015-2016 school year is, "In Everything…Pray". This theme was picked last spring with the thought process being, no matter the place, the time, the circumstance, in everything…pray.
Philippians 4:6-7 - Do not be anxious about anything, but in every situation, by prayer and petition, with thanksgiving, present your requests to God. And the peace of God, which transcends all understanding, will guard your hearts and your minds in Christ Jesus.
Well you think, 'this is all very well to say don't worry, but how can I stop?' Every time I try to stop worrying I worry even more. One cannot stop it just by the exercise of will power.
With the words "in every situation," there is nothing too small to bring to God. Someone asked, "Is it alright to bring small things before the Lord? Is he concerned about the small things in our lives?" The answer is: is there anything that looks big to God? Everything is small to him, so take everything to him in prayer. Prayer is the expression of our dependence upon his promises. It is not necessarily on your knees, or in the closet, but it can be simply take place anywhere and anytime. It is the continual recognition we need to lean back upon God's grace and strength in everything.
"Petition" means, keep it up, over and over again. Whenever problems develop lean back again in prayer to the One who is able and lives within us past, present, and future. Thanksgiving is that forward look of faith that thanks God for the answer before you see it. Knowing His will be done.
God is not saying we should ask for everything we want. Instead, we are to ask for everything we need. Frequently we find ourselves praying for things He never promises. For instance, if you are up against some kind of trial, or some catastrophe strikes in your life, our perfectly understandable, natural human reaction is to say, "Lord, take this away." But God never said he would do that. He does not always want us to have it taken away. That kind of prayer must always have appended to it what our Lord prayed in the Garden of Gethsemane, "My Father, if it is possible, may this cup be taken from me. Yet not as I will, but as you will." Matthew 26:39b.
But there are things for which we can immediately ask, and know that we will receive. His grace, his strength, insight, wisdom, patience, love and compassion. And as we lean upon Him for greater faith; which is prayer, we can also begin to give thanks that the answer has come, and in our thanksgiving we understand it as well. So, as in everything where we let our requests be made known to God, the result is peace. The peace of God that passes all understanding will keep your hearts and your minds in Christ Jesus. And with that in everything…pray.