Middle School Ministry is designed with three purposes in mind:
• To grow in faith and knowledge of Christ
• To serve people as Christ served us
• To share our faith in Christ with others around us
We do this through a multitude of activities:

Confirmation 2019-2020
Goals:
• Students will be able to articulate their faith to those around them
• Students will be able to defend their faith to others around them
• Students will grow in faith as they take the next step on their journey from Baptism
• Students will understand the basics of the 6 chief parts, Biblical overview, and worship from a Lutheran perspective.

Fees:
• $50 per student for Confirmation materials

Instruction:
• Students of St. John Lutheran School - weekly, with Mr. Dave Frobel regularly and Mr. Steve Wilson on occasion.
• Sundays – 9:30 AM to 10:30 AM, Music Room. Open to any student entering the 7th or 8th grade. Instruction is led by Mr. Steve Wilson, Director of Child and Family Ministry.
CLICK HERE to register a 1st year Confirmation student. (2nd year Confirmation students do not need to register.)
The Rite of Confirmation
All students who have completed the two-year Confirmation program by the spring of 2019 are eligible for the Rite of Confirmation on October 27, 2019. For questions, please contact Steve Wilson.
CLICK HERE to register for the 2019 Rite of Confirmation.

First Communion
St. John Lutheran Church & School students in the 6th grade and older may take our 4-week class for First Communion. The four weeks of class are offered each spring, with the next opportunity coming in the spring of 2019. Parents and students are required to attend the class all four weeks. Students and parents spend time each week talking about sin, confession, baptism and communion with the end of each class devoted to one on one time with parent and child talking about faith. At the end of those four weeks, parents have an opportunity to come with their children to the table for Communion at Maundy Thursday Worship.
Middle School Retreat: Nov 8-10 at Cran-Hill Ranch
Middle school students (6-8 grade) are invited to join us for an amazing weekend retreat. We will have worship, Bible study, ax throwing, archery tag, and other fun activities. The cost is $100. CLICK HERE to sign up.
Plan to meet at St John at 4:00 PM on Friday, Nov. 8 for departure. Parents, if you would like to chaperone or help on this event, contact Steve Wilson.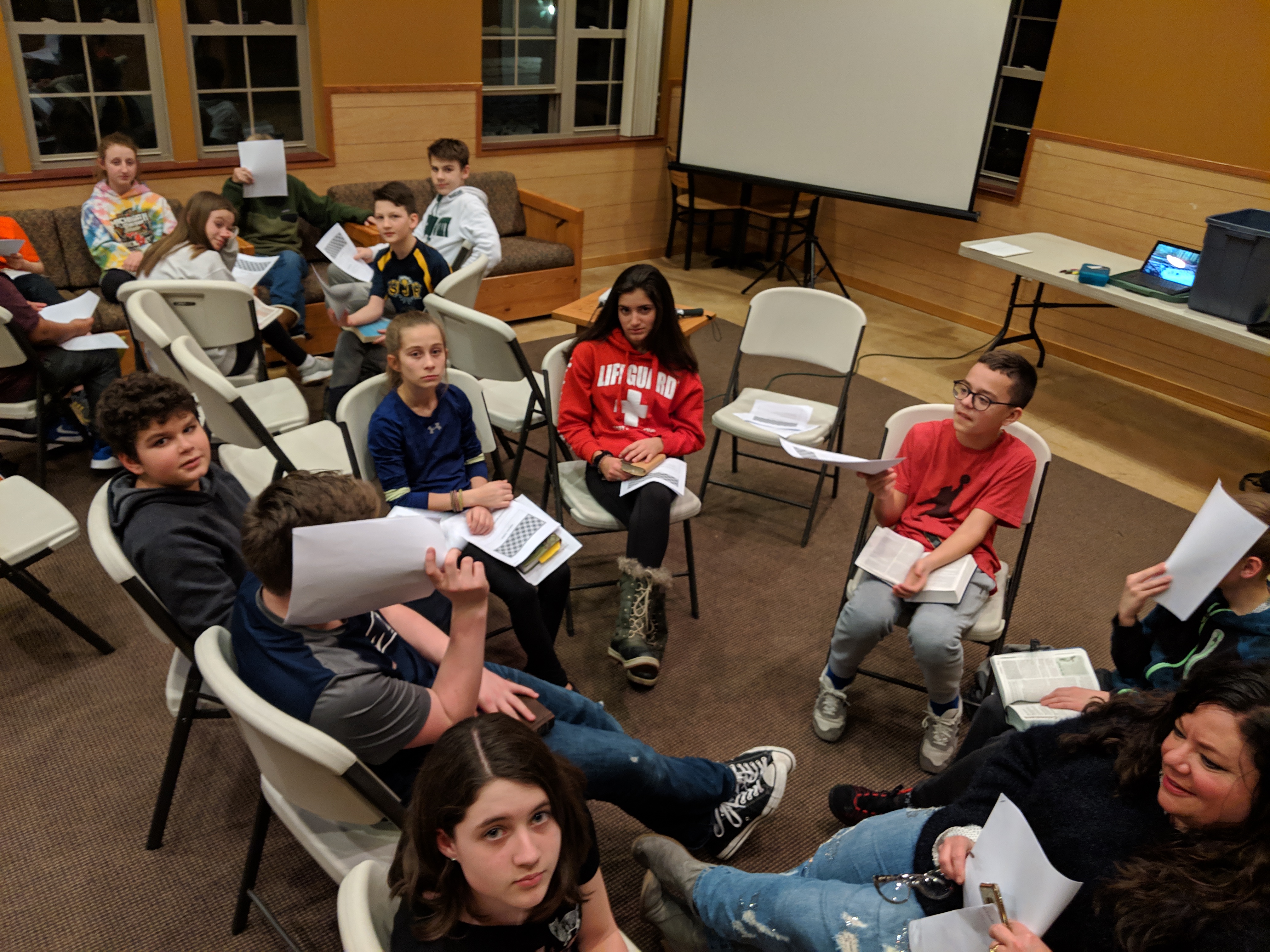 Group Missions Trip

Each summer the youth of St. John will participate in a Group Missions Trip. This event involves serving for a week in the summer with 400+ High School and Middle School students from across the country. They will serve by painting, building wheel chair ramps, roofing, or porch work. For general information about this service opportunity, visit www.groupmissionstrips.com or email Steve Wilson at
During the week of July 18-25, 2020, our students will be serving the people of Elkview, WV. The cost per person is $350 plus incidentals. For more information or to register for this service opportunity, please CLICK HERE.
For highlights of our 2019 Group Mission Trip to Knoxville, TN, please play the video below.
Local Service Projects
At least three times a year we will participate in service projects as a group. These may include helping at the Pontiac mission, and the Feed My Starving Children event.
Fellowship/Outreach Events
Periodically during the year we will hold events for the purpose of fellowship. Those events will include Lock-ins, Capture the Flag (Local event), Bowling, Progressive Dinners, etc.


Lighthouse Group
• Lighthouse is a place where Middle School students can come and feel safe and at home. Our activities include all students. It is also a place for students to bring their friends to share Jesus.
• 6:00-8:00 PM (except holidays)
• Games
• Bible study/prayer